Dating
Aanmelden
xD
hallo. welcOme @ emo-style xD Bn bezig hoOr met volstoppen met stuff...xD maar moet nog veel mooie dingen zoeken xD intro:: MIJN site gaat vooral over:: ALEX EVANS!! <3=D dus. hopelijk. ga je hier alles over hem vinden xD. Xx (~_~) dagdag.
heartbreakerclothing!
zijn eigen kledinglijn! <3
My chemical Romance!
Bandleden Leadzanger Gerard Way lead-gitaar, ondersteunende zang Ray Toro gitaar, achtergrondzang Frank Iero basgitaar Mikey Way drum Bob Bryar
Alex evans!! <3
my name is alexandre, i'm seventeen years old, i live in an amazing town called montreal, in Canada. i love photography, digital arts, music and cinema. i'm going to study at Dawson college, Montreal, in september 2007
Paramore!
Bandleden Hayley Williams (27 december 1988) - leadzangeres, keyboard Josh Farro (29 september 1987) - gitaar Jeremy Davis (8 februari 1985) - bass Zac Farro (4 juni 1990) - drums Taylor York (27 januari 1990) (stand in) - gitaar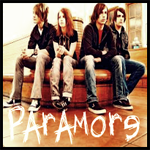 Albums All We Know Is Falling 2005 - RIOT! 2007
Bullet For My Valentine
Bandleden Matthew Tuck - gitaar, zang Michael Padget - gitaar, zang Jason James - basgitaar, zang Michael Thomas - drums
Albums The Poison (2006) Scream Aim Fire (2007)
Fall Out Boy!
BandledenPatrick Stump (Patrick Martin Stumph, geboren op 27 april 1984) - leadzanger en Gitaar Pete Wentz (Peter Lewis Kingston Wentz III, geboren op 6 juni 1979) - basgitaar en achtergrond zanger Joe Trohman (Joseph Mark Trohman, geboren op 1 september 1984) - leadgitaar Andy Hurley (Andrew John Hurley, geboren op 31 mei 1980) - drums
AFI!
bandleden Davey Havok - Zanger Jade Puget - Gitarist Hunter Burgan - Bassist Adam Carson - Drummer
Albums Answer That And Stay Fashionable - 1995 Very Proud Of Ya - 1996 Shut Your Mouth And Open Your Eyes - 1997 Black Sails In The Sunset - 1999 The Art Of Drowning - 2000 Sing The Sorrow - 2003 AFI (Retrospective) - 2004 (Compilatie) Decemberunderground - 2006